This Lent we will be doing a 'Spiritual Healthcheck' – don't panic it isn't as daunting as it sounds!
Having turned 40 the NHS kindly offered me a free physical healthcheck. The nurse took me through a whole list of questions about my lifestyle and also checked my height, weight and blood pressure. In the end it was a pretty reassuring check. Well if it is good to have a physical healthcheck it is even more important that we do a Spiritual healthcheck. The wonderful people at 'The Good Book Company' have produced just such a healthcheck in the form of 16 short Bible studies written by Carl Laferton which are available at Emmanuel for £1 each (though if you can't afford the £1 please just take the book).
How will we do the healthcheck?
For the healthcheck to be of greatest benefit we would like to suggest that we meet up in groups of 2s or 3s. If 2 couples wanted to meet together that would be fine. The reason for making it 2, 3 or 4 people is that with this smaller number we can be more open with one another and it also gives an opportunity to meet up with people outside our normal groups if we want to. Jesus had roughly 3 sizes of groups he ministered to: the crowds, the 12 and then the 3 (Peter, James and John). So by saying for the healthcheck that we will use smaller numbers we aren't in any way saying our Home Groups are bad because they are larger, it just means that by being smaller we can do things differently.
So who could you meet up with?
Well that is up to you, though if you would like us to help find one or two people for you to meet up with please let us know. If you are in a Home Group, the other person/people you meet with could be people in your existing group or they could be from outside your group. Unless you are 2 couples meeting, the other people should be of the same gender as you. Please let us know who you are meeting with so we know who not to approach if someone asks us to find someone to meet with.
How frequently do we meet?
It would be good, if possible, for you to meet up weekly during Lent to do the healthcheck. That sounds like a lot but don't forget there are only 6 weeks in Lent. My suggestion would be that you look to meet for an hour each week. Within this time you might do a bit of time for just catching up, time for the study and then time to pray for one another. Since you are only meeting up with a smaller number you might find it easier in fixing the time to suit you all (5am before heading into London for work? Midday? Whenever).
But there are 16 studies in the book!
Yes there are, and if you only meet once a week and only cover one study that only covers 6 of them. How will we deal with this?
Well, we will be covering 5 of the studies in sermons (chapters 1, 4, 7, 13 and 16) during Lent.
The remaining 11 can be done by you as you meet up. If you did 2 studies every time you met then you would definitely cover all of the studies. However I want to encourage you to be a bit more flexible than that. The purpose of the healthcheck is not simply to cover all the material but for God's Spirit to be changing us as we get into His word. So if you spend longer on one chapter and find that you are particularly challenged – stop there! Don't rush on simply to cover the material.
What preparation is needed?
None! I think the book is written in such a way that you don't need to do preparation. When you meet go through the session together reading the passages and answering the questions together. Be honest and open with one another then make sure you pray about what you have studied and been encouraged or challenged about. Before the next time you meet make sure to pray for the other person/people as well. Then at the start of the next time together, if appropriate, ask how they got on with applying what you talked about last time.
A sample time together:
Here is a suggestion for how the time could be used (but this is only a suggestion!):
Bob and Geoff decide to meet together at 3am because this time works well for them.
3am make strong coffee and chat together about how the last week has been and particularly how last week's study on 'Love' has influenced them.
3.15am pray for the Lord's help as they look at the Bible together
3.16am get into chapter 3 on 'Gratitude'
3.40am both have been really challenged to be grateful for the cross so finish the study there and pray for each other to put into practise what has been learnt.
3.45am Bob and Geoff share any particular things they want prayer for in the coming week.
3.55am they pray for each other
4am Bob and Geoff head off to work
Can we meet up after Lent?
Of course you can. If you didn't get through all the studies feel free to keep meeting. Alternatively if you didn't get through the studies but want to call it a day at the end of Lent, that's fine too.
What about our normal Home Group sessions?
It's up to you as a group as to how you want to play this. You might decide not to have normal Home Group sessions during lent in order to encourage group members to meet up in smaller groups to do the healthcheck. Or you might meet up once or twice for socials. Or you could meet up to cover some of the studies alongside group members meeting up in smaller groups to cover the rest of the material. It's up to your group.
So what next?
Think about who you could meet up with and ask them – or sign up on the board at church if you would like us to sort this out.
Put the date in your diary for your first meeting. Lent starts on 14th Feb so some time after that (though my advice is not 14th in the evening if you are married – something romantic with your spouse would be in order!)
Make sure you pick up a copy of 'Spiritual Healthcheck' from Emmanuel (£1 each)
Sign up at church to let us know who you are meeting with.
If anyone has any questions, please contact Bart, Amanda Kresinska, Robin or Joanne Walpole.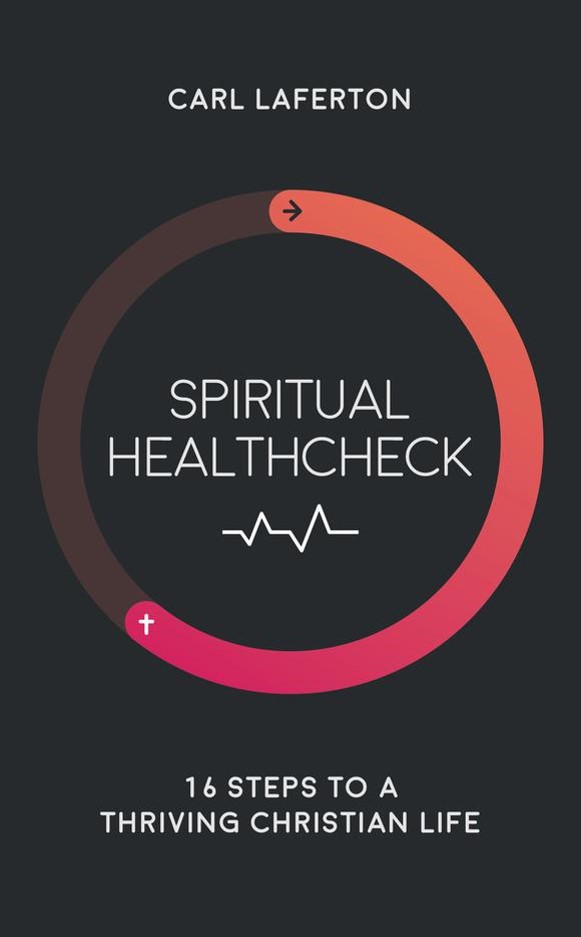 Spiritual Healthcheck- in the author's own words